Make Your Nashville Wedding Day Unforgettable
The Honky Tonk Party Express, is Nashville's most iconic, national award-winning open-air party wedding party bus service. Our wedding party bus is an outrageously fun and hassle-free booking option for your Nashville wedding transportation.
We've performed numerous wedding transportation services in Nashville for wedding parties that want to be anything but boring and average. Our services will guarantee your wedding party receive a one-of-a-kind experience for your most special of days.
We offer three types of Nashville wedding service rentals to enhance your Nashville wedding day experience.
WEDDING SHUTTLE SERVICE
If you are searching for a unique Nashville wedding shuttle or wedding transportation rental, then we are your wedding party bus solution. Each Bus holds up-to 30 wedding guests. Multiple buses are available for any size Nashville wedding.
MOBILE BAR RENTAL
Think all mobile wedding bar rentals are created equal? Think again! Every party bus comes equipped with a custom-built bar, VIP bartender, interior and exterior music, cups, coolers, ice and even led lights for night time events.
NASHVILLE WEDDING CRUISE
Don't want the wedding party to stop? We have you covered. This transportation service offers your wedding guests a party bus tour through Downtown Nashville. Rental times can be customized and as always, each shuttle party tour comes with a VIP bartender, music and LED lights.
Why you should book your Nashville wedding party bus with us
Each wedding can be customized with round trip shuttle services, mobile bar requests, or post-wedding cruises. Take your wedding to the next level with Honky Tonk Party Express, and make your big day even more memorable to everyone aboard Nashville's best party bus.

OPEN-AIR DESIGN
Let the sun kiss your face

BIG SOUND
40 speakers blast your favorite party music

FULL SERVICE BAR
BYOB. Cups & coolers provided

SEATING FOR UP TO 30
Fleet capacity up to 210+

VIP BARTENDER
ABC certified bartenders provided

CUSTOM LED LIGHTING
Interior, exterior & undercarriage led lighting
Do you want to know why people use our services for their wedding transportation?
A recent poll said, that over 82% of all wedding guests cited the ending ceremony as their most vivid or best memory from the wedding. So why not leave your guest with the absolute best experience for closing out your ceremony with your VIP Nashville wedding party bus? Leave your guests with a WOW experience!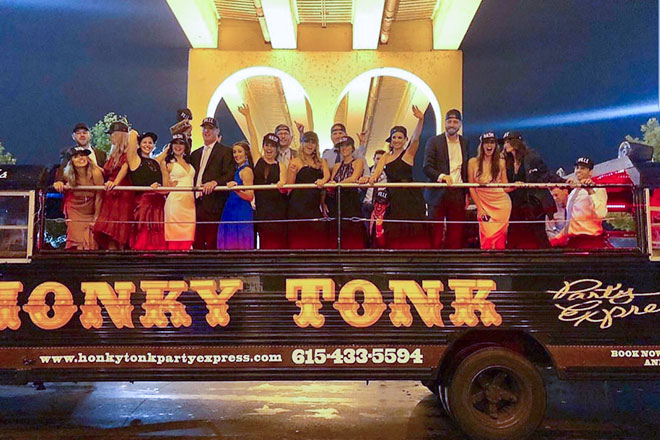 All Nashville Wedding party Bus Rental Companies are not created Equal.
If you believe this, get ready to be thoroughly disappointed... We've received countless last-minute calls from desperate Nashville wedding planners because the "other" Nashville party bus service companies failed to show or have the proper staff to drive. It's crazy to think about, but it happens more often than you think. Don't leave your Nashville wedding transportation to chance.
Book with the best, because you deserve the best
LARGEST PARTY BUS FLEET IN NASHVILLE
With a fleet size to host wedding party transportation sizes from 10-215+ guests. Multiple wedding party buses or shuttles can be rented to accommodate your largest wedding party.
As always your safety is our number one priority. Each wedding shuttle is Department of Transportation (DOT) certified, properly maintained and cleaned as well as driven by a friendly and professional CDL driver.


D.O.T. CERTIFIED
Department of Transportation certified


CUSTOM PACKAGES
Hourly, Daily, Weekend Options

EXPERIENCED DRIVERS
CDL drivers with Passenger endorsement

LICENSED TO SERVE
All bartenders are ABC licensed

REAL WEDDINGS. REAL REVIEWS
These newlyweds used the Honky Tonk Party Express to plan thier dream Nashville Wedding
CATHERINE DOZER
Wedding Hashtag:
#Findingmrwright
"It was the most exciting way to end our dream wedding in Nashville. The Honky Tonk Party Express was so much fun and such an amazingly fun wedding shuttle service for my wedding guests from reception to downtown! They definitely kept the party going for us newlyweds"!
---
PHILLIP SUTHERLAND
Wedding Hashtag:
#Spichinupshutherland
"We booked the Honky Tonk Party Express as our Nashville wedding shuttle after our wedding as a surprise for our wedding party guests. Needless to say, everyone was blown away. 30 of our best friends boarded the party bus with the music, lights and bartender jamming! It was something everyone will never forget! We recommend the Honky Tonk party Express to anyone looking to add some flair to their next wedding. The SHuttle rental process was easy and hassle-free. Just do it!"
---
AMANDA ZHANG
Wedding Hashtag:
#Amandahold&kiss
"The Honky Tonk Party Express made our Nashville wedding such a memorable experience! All our wedding guests raved about it the following day. We rented (2) wedding party buses. Our wedding shuttle buses picked up at our venue next to Downtown and transported all 60 guests thru Downtown in style! The booking process was convenient and the transportation rental costs were reasonable. The bartenders onboard both buses made this the perfect way to end our night, rather than sending everyone out to a bar. So many great pictures. Simply a brilliant concept for weddings."
---
Ready to Book the Ultimate Nashville Wedding Party Shuttle?
Booking Info & Pricing
If you are ready to have the most memorable, outrageous and amazing Nashville wedding you or any of your friends have ever had the honor of attending, then book today!
Once you have clicked the "book now" button, you fill out a simple email with dates, times and size of your Nashville Wedding party bus. Our guest relations manager will contact you and set up your Nashville wedding event with zero hassle.