The employees were extremely helpful and we loved hearing about the history of Nashville! Book with them if you want a GREAT time! Seriously, we loved booking with them!
Plan Your Tour
This page is for you, the party planner. Use this page to help answer any and all questions to help plan your tour with us.
Hours of Operation
MONDAY - SUNDAY: 10AM - 9PM
Party Bus Tour Requirements
You must be at least 7 years old to participate.
If you are under 70 lbs and at least 7 years old, you can still participate but you may be required to ride tandem with a guide or another lightweight sibling.
We recommend you be in moderately good health.
You are able to stand on your feet for 3 hours, and comfortable walking half a mile on even terrain. We strongly discourage from participating anyone that has recurring injuries, recent surgeries, or difficulty lifting your legs to your waist.
You will NOT be required to "hand brake".
You will also not be required to drag yourself over spans of cable. Our carefully designed course, innovative brake, and expert staff will take care of you from start to finish. You just have to worry about having a great time.
Every guest must sign a participant form.
Those under the age of 18 must have a parent or legal guardian sign the participant form.
Participants under 21.
Participants under 21 years old must have an adult over 21 accompany them on the tour. Participants ages 7-17 must have an adult go on the tour with them AND permission in writing from the company
There is no smoking.
Smoking is not permitted once you board the bus
Guests Who Cannot Participate
Those that suffer from medical conditions that require immediate attention.
Those that have existing or recurring injuries or have recently had major knee, back, or leg surgeries.
Those with serious mental or physical handicaps or disorders that would not enable them to ride due to the physical tasks that can happen throughout the tour.
Child 6 years old or young
What to Bring
Dress appropriately for the weather.
Comfortable clothes are recommended. Rain can come and go very quickly so we recommend wearing clothes that you don't mind getting a little wet.
Your ID
Please bring your ID ready to be checked by security. Those without an ID or other legal form of ID will NOT be allowed to ride.
Sunscreen
It can get really sunny. We recommend you properly protect yourself.
Bring any necessary medication.
Items such as inhalers, nitroglycerine pills, or epi-pens.
Sunglasses
If you plan on taking them off we recommend having a strap.
Water
Bring water to ensure you and your party crew have plenty of hydration while on your tour.
Cash for a tip
Cash may be given to our staff as a tip if they performed an excellent level of service during your tour.
Do Not Bring
Do not bring glass of any kind
Including glass beet bottles, liquor bottles, or glass objects of any kind
We do not allow offensive signs, objects, inflatables or clothing
These items are subject to being removed by company staff. These can be offensive signs for people to read, offensive inflatable objects of the human anatomy, or clothing that would be offensive or intolerant to others.
Hard Liquor
As of 04/1/22, The City of Nashville will not allow us to serve or hold any liquor on our buses. All drinks must be 8% APV or below to be allowed on the tour.
Leave valuable items at home
We can hold onto your phone and car keys behind the front desk. Everything else must be left in the car.
General FAQ
What is the Honky Tonk Party Express?
We are Nashville's first and only roofless party bus. We service bachelorette/ bachelor parties, birthday parties, themed parties, pub crawls, corporate outings and even parades. We can best be described as a Honky Tonk on Wheels or Mardi Gras meets Nashville. Our party bus caters to groups as small as 6 to large groups of 25.
Complete with a massive sound system, your Nashville party bus also comes with a fully built bar, VIP bartender, LED dance floor and the best way to experience the city. The party bus tour lasts for 2 hours and operates in the Downtown Nashville core.
Can we drink on the party bus?
Yes! This is a party bus after all. The bus is strictly BYOB or (Bring Your Own Beverage). We do not sell any beverages of any kind on the bus. You'll need to bring the beverages you plan to consume before your tour departs. We will provide the cups, coolers, and ice.

NO GLASS!

NO KEGS ALLOWED!


Liquor is permitted as long as it is not in a glass bottle. Please bring your own mixers. Does your crew need help locating a great beer & liquor store near downtown? If so, click Frugal McDougals
How much is a party bus tour?
Private group rental rates for 2 hours:

Friday – Saturday: $495 + taxes & fees (gratuity not included)
Sunday – Thursday: $375 + taxes & fees (gratuity not included)

(If you wish to have a longer tour please contact us for pricing)
Individual seats = $49 + taxes & fees a person. (Please check availability for open seats and tours.)
Does the bus really come with a VIP Bartender?
Yes! Every tour provides you with your very own bartender. We will store all of your beverages, and prepare any drink your group has brought on the party bus. We will also take photos of your crew and even give you recommendations on places to visit.
Are we allowed to stand while the party bus is in motion?
Your Party bus only goes 12 MPH.
Yes, you are allowed to stand while your party bus is in motion. We encourage your Nashville Party crew to be seated while the party bus is in motion. *STANDING IS AT YOUR OWN RISK*
How many people can fit on the party bus?
A minimum of (6) with a maximum of (25) Have a large group? Not a problem. Call us!! We can combine our entire fleet to host groups up to 200 people.
Need extra time? We gotcha! Call us for extended tours, shuttle service, wedding transportation. We can do extended hours, full day rates even entire weekend rentals.
How early should our Nashville party arrive?
We suggest 15 minutes early for your party bus (See late policy). Please have all your BYOB drinks in hand and ready to load on the party bus. (PLEASE NO GLASS!) This gives you ample time to load your Nashville party crew and your drinks, go over rules and sign waivers (Sign Waivers Here)..
Is there a bathroom on the party bus?
No. There is not a bathroom on the party bus, BUT we do take at least (1) restroom break one hour into your tour.
Our stops include local bars & restaurants around Downtown Nashville. Be sure to grab a drink while inside!
Do we mainly party on the party bus or is this a bar crawl?
Great question! We've built the party bus to be your private bar on wheels. Other than taking a bathroom break or getting a quick drink in a bar, the party bus is made to be all-inclusive bar/party/dance floor for you & your party. Your party bus is complete with a full built-in bar with a VIP bartender.
Do we go through Downtown Nashville?
Yes. Your party bus will go through and around Downtown Nashville but we do not have a specific route. Occasionally Lower Broadway has street closures, which may or may not prevent us from operating in Downtown Nashville. But, we are Nashville's #1 party bus, so we can go to other fun areas and still have a great time. So no worries! (So please note Downtown is not guaranteed)
Can I throw things off the party bus?
No! You are never allowed to throw anything off your party bus for any reason. Not even trash. No not give people on the streets food or beverages. Throwing anything off the party bus or handing others on the street food or beverage could lead to an immediate ejection from your tour with no refund. We take this rule very seriously. Don't be that person!
Do I need to book the party bus advance?
Yes, booking in advance is highly recommended. We will allow bookings the day of if we are available to perform a tour. Booking in advance is the only way to guarantee your awesome Nashville party bus experience.
Can we decorate the party bus?
Yes! We allow all types of decorations as long as they are non-offensive and appropriate. Remember, there are children that do walk through downtown Nashville. Advance notice is required for approval and staff must approve once decorated. Our staff has the right to ask you to remove any decorations for any reason. Not doing so can forfeit your tour.
What if it rains or there is bad weather?
We operate rain, shine, hot or cold. Our company does offer a temporary canopy roof during rainy days that have a high probability of rain. (Pop up showers will and do happen in Tennessee and they are extremely hard to predict.) Please note, the canopy roofing is not completely waterproof, so dress for the weather.
What if I need to cancel my tour?
Due to the recent changes in travel plans due to the Coronavirus, our cancellation policy has been modified. Please feel free to call with any questions or concerns.
What should I bring on the party bus?
BYOB: Please bring your you own drinks before you load up on the party bus. Feel free to bring beer, liquor, wine, and mixers as long as they are NOT glass. Regulations do not allow us to carry glass for safety reasons. If you have liquor or wine in a glass, we suggest pouring it into a plastic bottle or risk having it left behind for tour.
BRING WATER: It gets hot out there!
Cash: Please bring plenty of cash. This not only will help with tipping the staff but also help with purchasing drinks when we make a pit stop at bar.
ID: Please bring your ID (Must be 21 years old if alcohol is on the bus) Everyone gets ID'ed.
Storage: We do have limited storage space for personal items. Space is very limited.
Sunscreen: You never know!
What if I leave something on the party bus?
We are not responsible for items left or stolen on the party bus during or after a tour. We can store items on the party bus, but we can not guarantee their safety. We will hold items left on the party bus for 5 days before discarding them.
What if I want to add someone to my party bus group last minute?
We do not recommend this but understand people are late to sign up.
Private Rental – Company needs 24-hour notice of change in group size. If 24 hours notice is not optional, group must check-in with host day of the tour, get extra person(s) ID, wristbanded and waivers must be signed. NO RANDOM PICKUPS WILL BE ALLOWED ONCE TOUR BEGINS.
Public tour – an Extra person must purchase seat online before the tour begins. They will be added to the manifest, ID'd , wristbanded and loaded. NO CASH PAYMENT to driver, bartender or host for any tour seat purchased. No digital receipt, no tour.
How much to add an extra hour to our tour?
Extra time is only available for private or corporate tours. It's $175 per bus /per hour. Anything over 4 hours would need to be booked with our manager. Pricing will be subjective based upon the length of time, the day of week and rental.
Extra Time Rental Options
Extra Hour
Full Day Rental
Entire Weekend Rental
Safety Standards
Department of Transportation Certified
MetroTransportation License Commission Certificate
Vehicles Pre-Checked Before Tours
Alcohol Beverage Commission Certified Bartenders
Experienced Commercial Driver Licnesed drivers
In House Bus design & Build
Full insured as required by the City of Nashville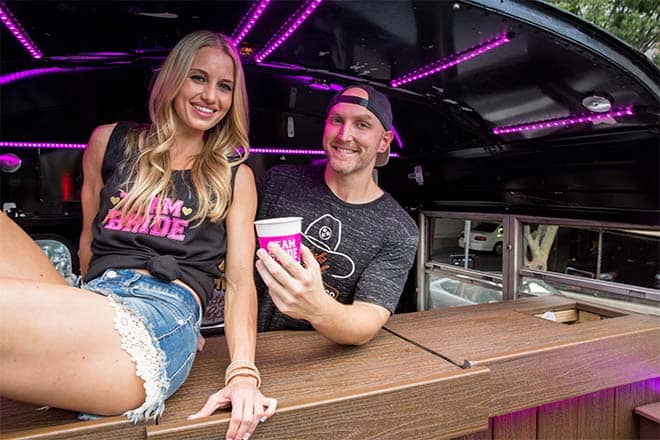 Ready to book Nashville's most outrageously fun party bus?
Click "Book Now"
Pick your date and time
Reserve your tour
BOOK NOW
BOOKING INFO
---
Once you've booked, you will receive a confirmation email confirming your tour date and time. A simple waiver link will also be attached to your confirmation email. Be sure everyone signs the online waiver. Full payment is required to book your party tour.
REFUND POLICY
---
Due to the recent changes in travel plans due to the Coronavirus, our cancellation policy has been modified. Please feel free to call with any questions or concerns.